UNIFORS 2020 (Erasmus+ completed)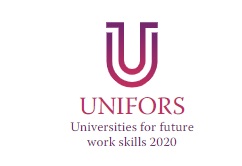 UNIversities for Future wORk Skills 2020


Duration: 30 months (01/09/2018 to 28/02/2021)
The project UNIversities for Future wORk Skills 2020 – UNIFORS 2020 brings together strong partners (5 universities from Poland, Romania, Belgium, Spain and Portugal and two SMEs one from Spain and one from Greece) aiming to increase students chances for a faster and better insertion on the labour market by improving their soft skills. The project will investigate employers, students and teaching staff perspective on specific soft skills gap and collect existing best practices in the field at EU level in order to prepare our students to the new labour market expectations.
Stakeholders:
Authorities in education and employment
Research institutes
Students' associations
Local authorities
National/European authorities
Training institutions active in the youth field
Private sector businesses and employers, etc.
Intellectual outputs
IO1: Research on labour market needs of soft skills in 5 EU countries
IO2: Research on soft skills at universities (EU perspective)
IO3: Development of soft skills training curriculum and teaching materials
IO4: Innovative online course on soft skills for university students
INFALIA in UNIFORS
Research on labor market soft skills needs
Consortium

Programme